Raj Kumar Markan
Chairman, H&K Rolling Mill Engineers Pvt. Ltd.
Mechanical Engineer, Banaras Hindu University (1962)
Mumbai, Maharashtra, India
Early years
Raj Kumar Markan, Chairman, H & K Rolling Mill Engineers Pvt. Ltd., has spent his entire working life of 56 years in the steel industry. His industry peers fondly refer to him as 'Man of Steel'.
Having graduated in Mechanical Engineering with top honours from Banaras Hindu University, Markan started his steel journey on the shop floor of Mukand Iron & Steel Works Limited (presently Mukand Ltd.) as a Trainee Engineer in the Rolling Mill.
Mukand Wire Rod plant, Kalwe, Maharashtra
Mukand Wire Rod plant, Kalwe, Maharashtra
Markan played a leading role in Mukand's Wire Rod Project at Kalwe right from the purchase and development of land to project engineering, civil and construction work, and erection of modern steel plant equipment such as arc furnace, continuous caster and a wire rod mill – all imported from Europe.
He was instrumental in the successful and swift commissioning of the Morgardshammar wire rod mill and the production of quality carbon steel wire rods from Continuously Cast Billets at Mukand – the first company in the world to do so.
Destined for Consultancy
Destined for Consultancy
A near-fatal accident occurred in 1970, when a 300kg billet fell on Markan on the shop-floor of Mukand's Wire Rod mill in Kalwe, leading to a 4-inch tear of his liver. This accident led to a series of operations spread over 5 years. The surgeons prohibited Markan from working in the dusty atmosphere of a steel mill on account of his moving around with an open abdominal wound.
Destiny veered him towards a world of steel consultancy.
Consultancy led him to Indore Steel, where he became the first Indian to commission a Wire Rod Block and introduce Controlled Cooling of wire rods – way back in 1981.
God-sent opportunity
God-sent opportunity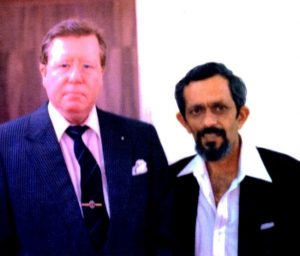 Markan, whose only experience of rolling mill operations was at Mukand's modern wire rod mill, was astonished at the obsolete equipment and technology prevalent in the secondary rolling mills in India. A god-sent opportunity came his way through a 1983 chance meeting with  Wolfgang Kluestch, Managing Director of Hoestemberghe & Kluetsch Gmbh, Germany, in the lobby of Oberoi Hotel, Mumbai.
H&K Germany was globally reputed for its unique designs and special rolling mill equipment. Kluestch and Markan soon signed a collaboration agreement to manufacture H&K specialized equipment in India.
H&K Rolling Mill Engineers Pvt. Ltd., India, was born on 16th May 1985. It had one peon, one stenographer and an 8 X 8 feet room office.
Despite its humble beginnings the company had lofty objectives:
Upgrade the Indian steel industry through introduction of advanced technologies.
Raise India's civil construction standards by introducing high-strength, high ductility bars suitable for India's seismic/earthquake zones.
The labour begins
The labour begins
With cutting-edge and customised solutions from H&K Germany, Markan's modest set-up bagged the very prestigious order to modernise Durgapur Steel Plant (DSP) of Steel Authority of India (SAIL) in 1989. Under his leadership, the small H&K India company became the first Indian company to introduce Made-in-India Stop-start Rotary shears in Bar Mills. It is a matter of pride that H&K India has supplied to date over 125 Stop-start Rotary shears based on H&K Germany's know-how.
H&K India moved into a proper office in the very prestigious Bandra Kurla Complex in 1990.
Modernisation of rolling mills became the focal point of H&K India's operations in its initial years. Markan along with his tiny team of engineers became the first to introduce Grip Tilters in India when they undertook the mill upgradation of Kalyani Steel in 1991. After this, in 1993, Kalyani Steel ordered on H&K India a Trough Tilter – the first of its kind in India and only the third in the world.
A bigger battle
A bigger battle
Introduced in 1968, the patented cold-twisted rebars (CTD) had become the standard for steel reinforcement in all Indian RCC works and remained so till late 1990s even though their use was not permitted in Europe from the early 1970s, a few years after their introduction.
The process of cold twisting resulted in artificial increase in yield strength at the cost of ductility. Thus, CTD rebars were limited to a strength of only 400-420 N/mm2 but also had decreased ductility, besides being prone to high corrosion due to surface torsional forces involved in the cold twisting process.
Markan found it very surprising that these CTD rebars had an 'unchallenged' monopoly for some three decades when they were 'banned' globally.
So, he first undertook research and background work to understand the needs of civil engineers. In the process he understood the properties of rebars required in earthquake prone areas such as India – the key was ductility irrespective of strength.
In 1991, H&K India broke through this CTD barrier and revolutionised the Indian steel industry when Markan produced India's first high strength Grade 500 rebar with 18% to 25% elongation using Thermex Quenching and Self-Tempering (QST) technology at Durgapur Steel Plant (DSP). 
The proprietary Thermex QST system of HSE Germany was seamlessly designed, installed and commissioned by H&K India at DSP before the official completion date.
Early successes led to more prestigious orders such as from Bhilai Steel Plant of SAIL and other secondary and primary rolling mills.
Presently, from the H&K India office, over 400 Thermex orders have been / are being executed.
60% of rebars produced in India are Thermex bars.
Indian Standard revised after Markan breakthrough
Indian Standard revised after Markan breakthrough
Markan gave India its first high strength Grade 500 rebar with 18% to 25% elongation in 1991. This outstanding feat was the first step towards the revision of the Indian standard through the addition of grades 500D and 550D with higher ductility.
Until this breakthrough, the Indian Standard largely reflected CTD bar properties (i.e) lower strength and poor elongation.
A little man with a grand vision and relentless determination……., that is Markan. 
[su_quote]It is remarkable – his contribution to the civil construction sector by his crusade against the cold twisted deformed bars being used in the country when most developed countries had stopped using them in early 1970s. I learn that the German THERMEX Brand high strength ductile deformed bar, introduced by Markan, now commands a formidable market share in the country.[/su_quote]
– Late Viren J. Shah, Former Chairman Mukand Ltd., Former Governor, West Bengal.